Main mobile device is mobile phone or SmartPhone but there are some different devices like 3G/4G modems or routers. In this page we will explain main features to consider and doing the right selection.
¿How to select a mobile phone?
The first decision is to select between a featured phone and a SmartPhone. All mobile phones are complex devices managed by software managing all physical elements or hardware. This software could be developed by mobile phone manufacturer fully adapted to phone hardware. This is the case of featured phone or classical ones mainly focused in voice calls but including some data features like e-mail. Main advantages are low price, low battery consumption and simple usage. This kind of phones have a limited application set. In the opposite smartphones are more closed to a small computer. Smartphone functionality is managed by an operating system and it is possible to add new applications adding new functionality to the phone. Main smartphone characteristic is the operating system used: Android, Windows Mobile, IOS, etc. In this page below are explained in detail main characteristic we should check when selecting both featured phones and smartphones.
Tablet
It is not the first mobile device with a big screen but Apple iPad is the first device we could name "Tablet". Currently most manufacturer offer similar devices. All of them include Wifi and Mobile network connectivity and tactil screen big enough to facilitate internet browsing and read our email easily. Tablet devices include speaker and microphone but they don't support voice calls. Tablet use mobile network only for data connections. Tablets are really convenience in front of computers because 90% of computer use are browsing and email and Tablets totally fulfil them. Additionally could include a big number of applications making it a really powerful tool.
eBook
El eBook o "electronic book" is similar to Tablet but it is used exclusively for reading books in electronic format. Main different is the screen which is has no light and, similar to a book, it needs an external source of light. This characteristic reduce battery consumption and it could be used longer even using it continuously. eBooks are connected to mobile network but this connection is restricted only for books downloading and a reduce set of applications. Price use to be cheaper than Tables with the same size. Most famous eBooks is Kindle from Amazon.
Phablet
It is a device in the middle of smartphones and tablets. This name is not "official" but it is widely used. It is really a big smartphone. It has a big screen but not as big as a tablet. Additionally phablet support voice calls although they are not really comfortable for calling. Because of this they are normally used with a headset. Thanks to the big size of this device battery is big as well allowing heavy use during longer time.
Wearable
Wearables are mobile technology applied to elements we use to wear. Once included in smartphones all technologies possible to be included the next step is to apply these technologies to elements we use to wear like watches or glasses. This is the case of Google Glass or Apple Watch. The objective is to find new elements as succesful as smartphones. The first succesful wearable is the "SmartWatch" which, additionally to the time, gives information about who are calling and show received messages. Other wearable are bracelets for checking our health, exercise, sport, etc.
Battery
It is a really important element as mobile device have a big energy consumption and the battery needs to store enough energy for not worrying about recharging it. The battery type used nowadays is the litium ones and the main parameter to check is capacity indicated in mAh or "miliamps per hour". This parameter indicates the maximum current this battery could provide during one hour. Voltage is the same in all bateries, around 3.8 volts, because it is realted to battery technology. We should look for the highest capacity and no less than 1000 mAh. iPhones 6 (a well known phone) have more than 1800 mAh and there are smartphones with more than 2000 mAh. We realize about consumption when calling but, in stand by mode, there are applications running could spend energy and we don't realize about it. Then 1000 mAh could be valid but, if we installed more applications, we should consider 1200 or even 1400 mAh.
Strategies to reduce battery consumption
We have to select a mobile device with enough battery to afford the whole day. But sometimes we could spend more battery than usual when travelling or one day we have done more calls. Below we show some simple rules to reduce consumption and increase battery duration:
Mobile Data – It is the biggest consumption and, additionally, we cannot control it because are our applications the ones using it. We could deactivate data communication and connect it during a while every hour or half an hour. During this time our device is in low consumption mode and receiving our messages or email every hour could be enough..
Bluetooth and Wifi have lower battery consumption but it is not low at all. Disconnecting them additionally reduce battery consumption.
Screen ligth have a high battery consumption as well. We could reduce brigth and reduce the time to switch off.
Don't switch on and off. These two actions spend a lot of battery. It is better to switch on and off airplane mode. In airplane mode battery consumption is really minimum.
GPS is included in most of devices but it is a receiver not spending battery too much. We could switch off it but consumption reduction is not too much.
Processor
Processor is the key element in a mobile device and it concentrates most of the functionality from CPU, the one executing operating system (IOS, Android, etc), graphic processor for image and video processing, mobile processor in charge of GSM, UMTS and LTE signal and, additionally, Wifi, bluetooth and NFC. GPS is included in this processor as well. Processor components are analyzed in more detail in this page. Below table shows highest performance SmartPhone specifications from leading manufacturers.
| | | | |
| --- | --- | --- | --- |
| SmartPhones | Apple iPhone 7 Plus | Samsung Galaxy S8+ Dual SIM | Huawei Mate 9 |
| Processor manufacturer | TSMC | Samsung (EMEA), Qualcomm (China, USA) | HiSilicon (Huawei) |
| Model | A10 Fusion | Exynos 8859 (EMEA), MSM8998 Snapdragon 835 (China, USA) | Kirin 960 |
| Cores | 2 (2 High performance or 2 low consumption) | 8 (4 high performance+4 low consumption) | 8 (4 high performance+4 low consumption) |
| Bits | 64 | 64 | 64 |
| Speed | 2.34 GHz | Exynos 2.3 GHz/1.7 GHz – Qualcomm 2.35 GHz/1.9 GHz | 2.4 GHz / 1.8 GHz |
| RAM | 3 GB | 4 GB | 4 GB |
| Battery | 2900 mAh | 3500 mAh | 4000 mAh |
| Dual SIM | No | Yes | Yes (MHA-L29) |
| Wifi | 802.11ac | 802.11ac, Wifi Direct | 802.11ac |
| Bluetooth | 4.2 | 5.0 | 4.2 |
| NFC | Yes | Yes | Yes |
| GPS | Yes | Yes | Yes |
| Video | 3840p (4K) | 3840p (4K) | 3840p (4K) |
| Photo | 12 MP | 12 MP | 12 MP |
| LTE | Cat. 9 (450 Mbps) | Cat. 16 (1024 Mbps) | Cat. 12 (600 Mbps) |
| LTE Bands | 1, 2, 3, 4, 5, 7, 8, 12, 13, 17, 18, 19, 20, 25, 26, 27, 28, 29, 30 | 1, 2, 3, 4, 5, 7, 8, 12, 13, 17, 18, 19, 20, 26, 27, 28, 29, 30 | 1, 2, 3, 4, 5, 7, 8, 9, 12, 17, 18, 19, 20, 26, 28, 29 |
| TD-LTE Bands | 38, 39, 40, 41 | 38, 39, 40, 41 | 38, 39, 40 |
| UMTS | HSPA+, DC-HSPA | HSPA+, DC-HSPA | HSPA+, DC-HSPA |
| UMTS Bands | 850 MHz, 900 MHz, 1700/2100 MHz, 1900 MHz, 2100 MHz | 850 MHz, 900 MHz, 1700/2100 MHz, 1900 MHz, 2100 MHz | 800 MHz, 850 MHz, 900 MHz, 1700/2100 MHz, 1900 MHz, 2100 MHz |
| GSM | Edge | Edge | Edge |
| GSM Bands | 850 MHz, 900 MHz, 1800 MHz, 1900 MHz | 850 MHz, 900 MHz, 1800 MHz, 1900 MHz | 850 MHz, 900 MHz, 1800 MHz, 1900 MHz |
CPU
Nowadays nearly all mobile devices (including iPhones) use nearly the same CPU. CPU designer is ARM Holding. This british company is the owner of ARM architecture (Advanced RISC Machines) used in most of mobile devices. ARM holding license this architecture to processor manufacturers to be included in their processors. As the speed of these processors is more or less the same the main parameter to consider is the number of "cores" or CPU working in parallel inside the processor chip. Recommended minimum number is 4 "cores". 2 core devices are really slow for current software. The highest performance processors have 4+4 cores CPU. 4 are working at high speed and 4 at lowest speed to reduce battery consumption. 8 cores are working only when necessary.
RAM
RAM stands for "Random Access Memory".It is the memory accessed directly by processor storing running applications and running processes of operating system. When not enough device speed reduce dramatically and it has an extrange behaviour. If we install a big number of applications it is needed a bigger one and maybe more important than cores. RAM size is indicated in MB and GB (1024 MB). Minimum value should be 1 GB but recommended should be 2 GB. Don't confuse with internal memory which use to have several GB but it is slower and not accessed by processor directly.
Operating System
It is one of main characteristic of one SmartPhone. It is in charge of facilitate smartphone usability and manage installed applications. Every smartphone is designed for a specific operating system. We could update it but not changing to another one. Current available operating systems are:
Symbiam – It was the first and market leader during long time. It was adopted by some manufacturers but finally only by Nokia exclusively. Currently it is not supported and only used by old phones.
Blackberry OS -Proprietary operating system used by RIM company in blackberry phones. Blackberry was the leader in enterprise market thanks to a really efficient email application and a complete keyboard in all models. Currently it has lost this leadership but it could be an option.
IOS – IOS is the Apple proprietary operating system installed in all mobile devices: iPhone, iPad and iPod Touch. It was the first with tactil screen eliminating the keyboard. It is really easy and confortable to use and fully adapted to Apple hardware. It took the leadership in high performance smartphones from Nokia and Blackberry. One remarkable characteristic is every application is running in a container fully isolated from other applications. Device is more reliable as it is not possible at all any application gives problems to other one or to operating system. Additionally it has  one of the best application portfolio in the market.
Android – Developed by Google has been adopted by most manufacturers as it is the only one with a performance similar to Apple IOS. It looks like IOS but technology is different using the same memory for operating system and applications. This has advantages but a problematic application could affect other application or operating system. Other different is Apple check all applications in portfolio but Google don't do this. Then there is a highest risk of installing an application not working properly. As an advantage application portfolio is comparable to Apple one and it is installed in cheaper smartphones. Google have developed "Android Wear" version focused on wearables.
Windows Phone – Microsoft developed mobile operating systems in the past (Windows Mobile not supported currently), but current Windows Phone is based on Windows 8 operating system totally different to the previous one. Initially have substitute Symbian operating system in Nokia phone but Microsoft try to extend to other manufacturers. Currently HTC have some Windows Phone models. It is the last arriving to the market and it has the smaller number of applications but this situation could change in the future because of Microsoft strong support.
GPU
GPU or Graphic processor is in charge of image and video processing from device cameras. Capacity is measured in megapixels for pictures and quality for video. Nowadays graphic processor capacity use to be higher than camera one. In case of video the usual one is HD (High Definition or 1024 pixels per line) and 4K (4000 pixels per line) for the highest performance ones.
Mobile processor
Mobile processor is in charge of signal coming from antenna and radio unit. Mobile processor recives GSM, UMTS and LTE signal. Features like GPRS, Edge, HSPA, Carrier Aggregation, MIMO, etc are supported by mobile processor. Additionally it process Wifi, Bluetooth, NFC and GPS signals.
Supported Bands
Any technology could be used in any band or frequency. Decision depends on country telecommunication regulation organization. It is possible to get more information in "Band Coverage" page in this website. Even in the case a mobile device support the three mobile technologies they are not supported in all bands. If we buy the device to our operator it is not necessary to worry about this point as network operator will select the right model for operator coverage. However when we buy a unlocked phone or we are travelling to other countries we have to check our device supports each technology in the bands local network operators are using.
As an example iPhone 5 have several models. All of them supports GSM, UMTS and LTE but not in all bands. A1428 model supports GSM in 850, 900, 1800 and 1900 bands. UMTS in 850, 900, 1700/2100 (AWS),, 1900 and 2100 bands. LTE in band 2 (1900), 4 (1700/2100, AWS), 5 (850) and 17 (700b). Checking in "Band Coverage" page we realize there are some operators giving LTE coverage in 1800 and 2600 bands, or GSM in 700 or 800 bands. This model of iPhone 5 wouldn't be suitable if we are in these countries.
NFC
NFC stands for "Near Field Communication". This technology use a fix element creating an electromagnetic field around it and NFC cards used by users. When the card is next to fix element the card receives the electromagnetic energy and it use this energy for answering to fix element. NFC cards have no batteries and only receives energy and data from fix element. This system only works in short distances as it is the only way to receive enough energy. NFC cards are used for access control and recently inside credit cards. Mobile devices including NFC functionality simulate a NFC card which is configured by an application. We could download our bank NFC application and it configure our smartphone to work like a NFC credit card.
3G/4G Modem
Connected  through a USB interface provide mobile connectivity to our computer. The main advantage in front of a mobile phone is it is designed for data communication reaching a higher speed. It has no power problems as its consumption is minimum compared with overall computer consumption. Additionally we have our mobile phone free for receiving calls not affecting data communication. Most operators offer Multi SIM service: two SIMs with the same contract and plan for a minimum added cost, one for our mobile phone and the other one for our 3G/4G modem. From the network point of view both SIMs works independently.
3G/4G Router
It is called MiFi as well. It allows to share a mobile connection for several computers. Normal sharing method is Wifi but it is possible ethernet cable as well. It provides an internet connection easy and confortable in any place. It is not needed to install any software in computers as it is a normal Wifi access. Inside router a single SIM card is installed for the mobile connection shared by all computers .
SIM Card
The SIM card is one of the key elements of GSM, UMTS and LTE network. SIM stands for "Subscriber Identity Module" and it is a card initially with the same size than a credit card. This size has been reduced in the following versions.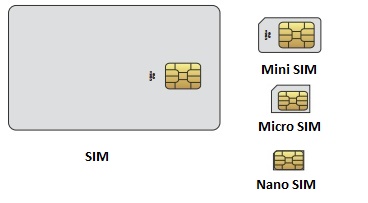 In previous technologies network identification was link to the device. In case of device lost or broken it is necessary to request a new device with the same indentification to network operator. This procedure takes time and it is not flexible. Additionally security was not so high.
SIM card is in charge of both identification and security. It stores user identification number called IMSI or International Mobile Subscriber Identity. Network operator associate SIM card IMSI to our telephone number. After this association this SIM card will identify us in any device it is connected. If our mobile is broken we can insert our SIM card in other mobile to continue calling and receiving calls. Some mobiles (every time more) offer Dual SIM feature. We can insert two SIMs and both are active. Data connection could be done using any one and we can call and receive calls with both SIMs.
Other key characteristic of SIM is the highest level of security thanks to SIM card. Encription algorithm to protect our communications is public but security keys are unique for each SIM card. Network operator buy SIM card to a reduce set of companies. Once SIM cards are receive the associated information (IMSI, Keys,etc) is stored in HLR network element. This element is the only one having the security keys. SIM cards are sent to the stores afterwards. When we make a contract with a network operator a telephone number is associated to this SIM card and we can start using it.
In case of losing our device we need a new SIM card and a new device. In the store a new SIM card is associated to our number and contract but the IMSI and the keys are the ones in the new SIM card. The content of SIM card is not change in any way. Once we have a new SIM card with our number and contract we could buy a new device or reuse another one.
Dual SIM
It is not a usual feature but it is a really useful one. Dual SIM mobile phones allow to install two SIM cards which could be from two different mobile operators. Mobile phone is registered in both mobile networks simultaneously with two different telephone numbers. From the network point of view is like two mobile phones and it is possible to receive calls from any network anytime.  When calling mobile phone offer a user menu in order to select the network for calling. For data connections it is necessary to select the used network. It could be changed fastly but only one data connection is stablished. In fact, most of Dual SIM phones don't support all technologies in both SIM cards. Only one SIM supports all technologies and the other one uses to support only 2G or GSM. Usual selection is to use SIM card supporting all technologies for data connections. SIM card supporting all technologies and SIM card used for data connections could be changed by configuration without moving SIM cards phisically.
There are several use cases for Dual SIM phones. One private SIM and the other company SIM. When travelling to other country we could maintain our own SIM card and use a prepaid SIM card for cheap data connections. Two SIMs with two different contracts, etc. Mobile operators don't like this feature and they don't include this kind of phones in their offer. It has no sense if the mobile phone is not free and operators would sell a phone which could be used with another mobile operators. Usually it is possible to find Dual SIM phones in multioperator stores or big stores where free phones (mobile phones not linked to any operator) are sold.
Embedded SIM
Embedded SIMs are similar to classical SIMs but they are though for M2M and IoT. This SIM is installed in the device but never removed. Embedded SIMs are used in connected cars or eBooks. It is installed during manufacturing process in the way final user cannot remove it.
Objective is manufacturer offer connectivity service additionally to the product. In the case of connected car final user don't have to take care about any contract. Car manufacturer is in charge of car connectivity. Car manufacturer us an application provided by SIM provider in order to remotely configure Embedded SIM. There is no lack of security as remote configuration application is under SIM card provider control.
Software SIM
Software SIM is not physical but a software running in special devices. It is though for M2M and IoT as well. As software SIM is running in a hardware not controlled by SIM provider there is a lack of security and currently this kind of SIMs are under discussion. Objective is small IoT devices where it is difficult to install a embedded SIM card.